Environmental Disclosure for the Electricity Products of Inspire Energy Holdings, LLC
For December 2020 - November 2021
The following environmental information is for electricity supplied by Inspire Energy Holdings, LLC ("Inspire") in accordance with the Maryland Public Service Commission's Order No. 76241 Case No. 8738.
Inspire purchases power that is added to the electrical grid in an amount equivalent to your electrical usage. Power plants generate electricity from a number of different sources, resulting in different emissions. Inspire reports fuel sources and emissions data twice annually, allowing customers to compare data among other suppliers providing electricity service in Maryland.
This report contains historic and regional default data from PJM.*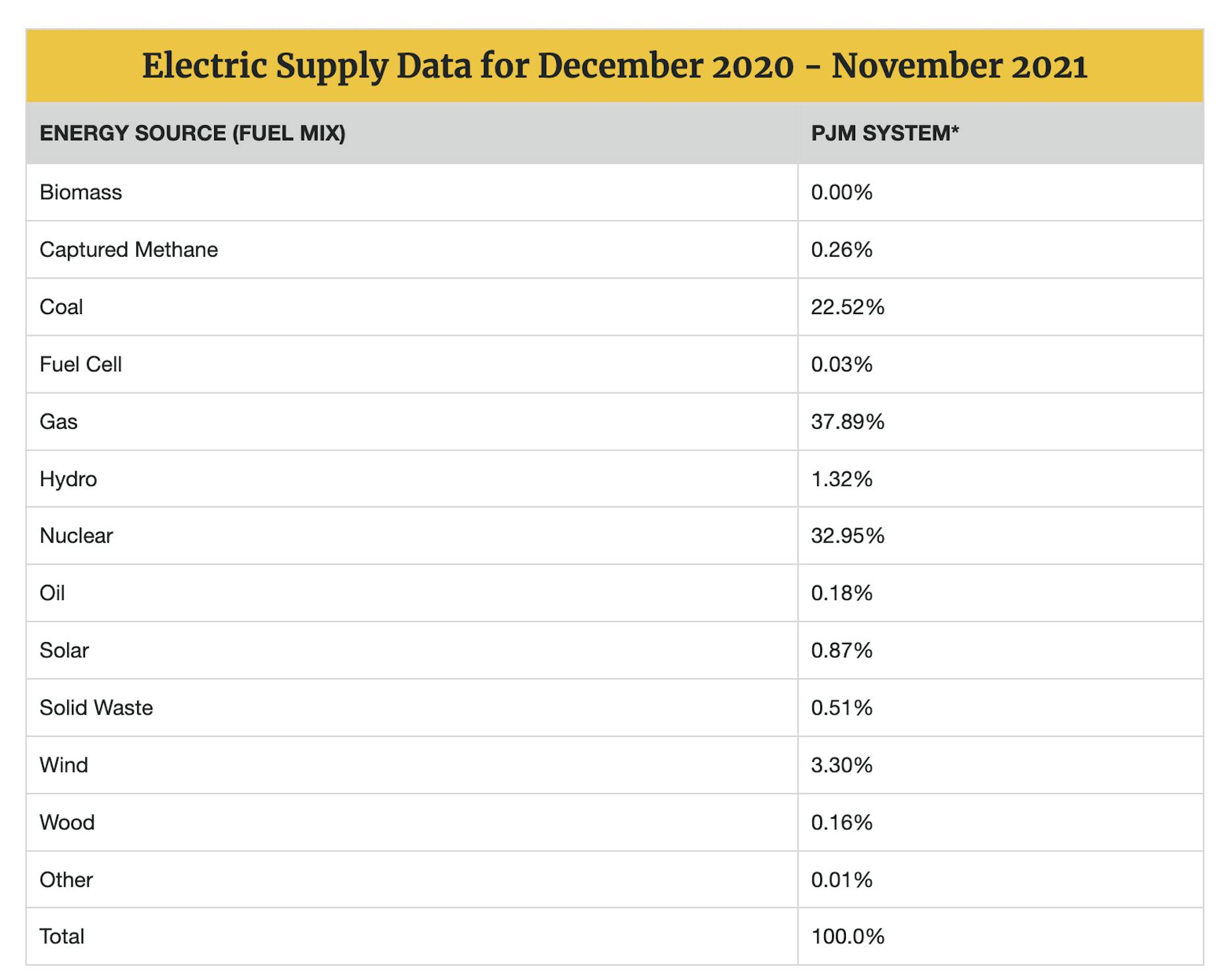 Air Emissions
Average Nitrogen Oxides ("NOx"), Sulfur Dioxide ("SO2"), and Carbon Dioxide ("CO2") emissions for the residual mix in the PJM Region

(*) PJM is a regional transmission organization that coordinates the movement of wholesale electricity in all or parts of 13 states and the District of Columbia. The above PJM system mix represents all resources used for electricity generation in the region. Inspire's specific energy source (fuel mix) and emissions data vary from the PJM average due to Inspire's purchase of Renewable Energy Certificates in accordance with the Maryland Renewable Energy Portfolio Standard.
With the purchase of the 100% renewable electricity product, you are supporting cleaner electricity by offsetting your paid annual electricity usage with an equivalent amount of energy produced by renewable energy facilities located in the United States. Inspire purchases and retires renewable energy certificates representing the environmental attributes associated with renewable energy produced from renewable energy generation facilities. You will not have electricity from a specific generation facility delivered directly to your service address, but your purchase ensures that renewable energy equal to the applicable percentage of your paid electricity usage is annually produced using U.S. renewable resources. We may take up to three months following the close of the calendar year to make up any deficiency in the renewable resource content for your electricity product.
CO2 is a "greenhouse gas" which may contribute to global climate change. SO2 and NOx released in to the atmosphere react to form acid rain. NOx also react to form ground level ozone, a component of smog.
You may call Inspire for additional information at (866) 403-2620.
MD License # IR-3259