Inspire Impact: Bringing clean energy to remote parts of the world with our partners at GivePower
category: Sustainable Living
Inspire's mission is to increase accessibility to clean energy not just in the US, but across the world. Our customers in the US help us accomplish this by switching their homes to 100% clean energy supply. And our partners at GivePower help us bring clean energy to rural communities beyond our nation's borders.
About the GivePower Foundation
GivePower is a nonprofit organization that is committed to providing electricity, food security and clean water to regions that need them most through the use of innovative solar-powered solutions. The organization recognizes that when working to combat climate change, we cannot ignore the disparities in its effects — that the countries contributing the least to climate change are the ones most susceptible to its consequences. GivePower offers corporations the opportunity to take action, inviting them to fund and participate in clean energy projects around the globe.
Inspire and GivePower's Partnership
Through our partnership with GivePower, Inspire has contributed funds to over 50 solar projects, impacting the lives of over 60,000 people.

In addition to donating directly to GivePower's mission, Inspire has sponsored our own employees to participate in 3 of the philanthropic treks to build solar power grids in remote regions of Colombia and Nepal. These solar projects have delivered access to reliable and renewable energy that have unlocked social and economic gains in these remote parts of the world. Through our treks, we've helped to power irrigation systems, schools, and health clinics – making clean water, education, and healthcare more accessible.

Outside of the treks, Inspire has funded other GivePower projects as well. We've contributed funds to GivePower's Solar Water Farm projects, which provide enough clean drinking water for thousands of people daily. Finally, we've contributed to the Green Program, which is an education program for young leaders in sustainable development. Contributing to different areas of GivePower's work allows us to maximize our impact – both in amount and diversity. Below is an overview of what we've accomplished with GivePower to date.
Partnership Highlights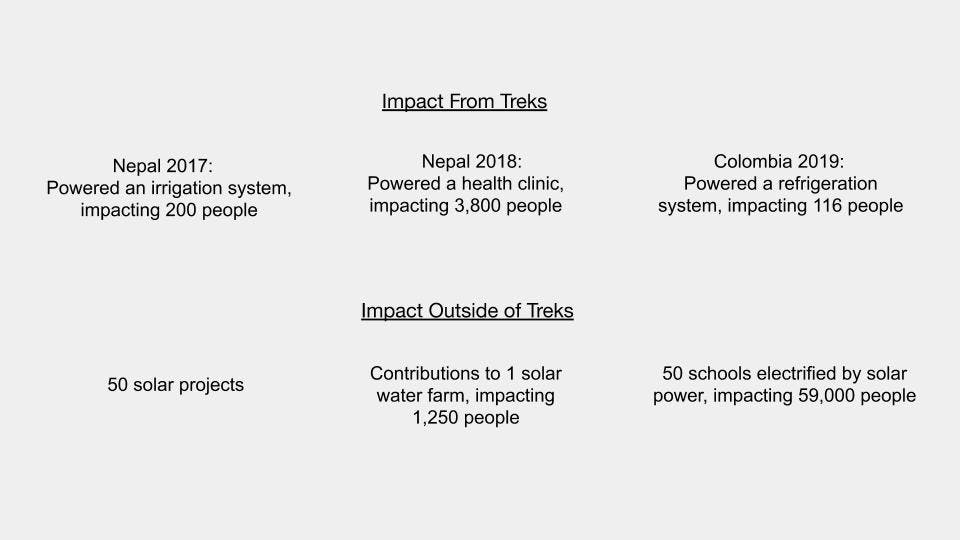 Of course, our involvement with GivePower is about far more than just the impact numbers. The treks are centered on building relationships with and investing long-term in the communities we work with. Liz Sprout, one of our Avengers who participated in the 2018 trek to Nepal, explains this relationship:
"I soon realized that Inspire was not there to 'gift' a village with water and power, but rather to work cohesively with the local community to build something more valuable than any donation: empathy and reciprocity. For me, this trek humanized the issue of climate change. Together, we fostered a shared investment in the success of both the Jhagarebesi village and the renewable energy industry at large. And in doing so, invested in each other."
We are proud to have contributed 12% of the total impact created by GivePower to date. But ultimately, it is GivePower we have to thank for the opportunity to use our company profits purposefully in the fight against climate change. Learn more about our three treks below.
Don't worry about climate change— do something about it.
Our clean energy plans are the easiest way to reduce your home's carbon footprint.
Switch to clean energy
→
We're on a mission to transform the way people access clean energy and accelerate a net-zero carbon future.
Learn more about Inspire →
Explore more
Recent Posts
Top Articles