Combating the Climate Crisis With Our Valued Partners
category: Sustainable Living
Let's face it, the energy industry is a key player in the climate crisis. It's responsible for more than two-thirds of all global greenhouse gas emissions!* That's why we're rolling up our sleeves and taking on the challenge of decarbonizing the grid to pave the way for a cleaner, greener future for all. 
Inspire is on a mission to help usher in a carbon-free future by sourcing renewable energy that's both impactful and accessible. To accomplish this, we continuously seek out ways to provide innovative clean energy solutions to our members, whether that be partnering with generators to offer access to clean electricity from local sources or leveraging high-quality nature-based projects to neutralize natural gas emissions. 
And we think it's high time we introduce you to some of the valued partners we've joined forces with to power a brighter world.


Our Local Generators

We're on a journey to make our clean energy sources even more impactful and transparent than ever. How? By partnering directly with generators whenever possible. We're not just talking about any old clean energy here—we're talking about higher-quality, supercharged, clean energy. When we keep energy local, everyone wins! Not only do we get cleaner air, but we also support local jobs and give the region's economy a boost. Now that's what we call a win-win-win situation.
Highland North Wind Park
Project Type: Wind Energy 
# of Turbines: 30
Average Electricity Generation/year supported by Inspire: 60,949.38 MWh
Location: Sidman, PA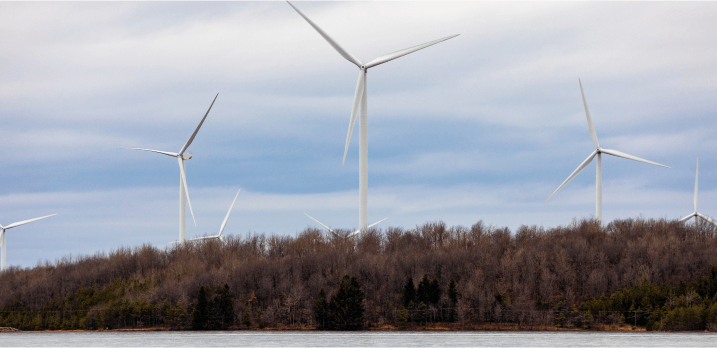 Built on the remnants of an old coal mine, on the hills overlooking the Beaverdam Run Reservoir, Highland North Wind Park is a sight to behold for avid hikers, boaters, and anglers. Adorned with 30 modern wind turbines, this renewable energy haven produces enough clean electricity to power 5,733** homes year-round!
Patton Wind Farm
Project Type: Wind Energy 
# of Turbines: 15
Average Electricity Generation/year supported by Inspire: 21,788.06 MWh
Location: Patton, PA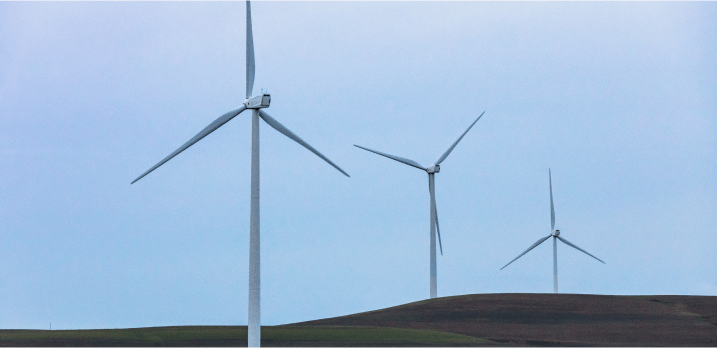 Amidst the sweeping farmlands of Pennsylvania's wind belt lies the mighty Patton Wind Farm. With its 15 towering turbines, it has enough power to light up 2,049** homes all year!
Twin Ridges Wind Farm
Project Type: Wind Energy 
# of Turbines: 68
Average Electricity Generation/year supported by Inspire: 444,381 MWh
Location: Meyersdale, PA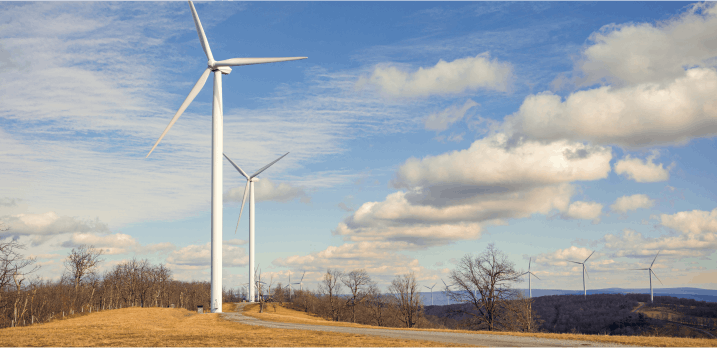 With 68 mighty turbines scattered across the beautiful hills of Somerset County, the Twin Ridges Wind Farm holds the title of the second-largest wind farm in Pennsylvania! As such, it has the ability to churn out enough clean energy to power a whopping 11,136** homes 365 days a year.

And we're just getting started! Be on the lookout for future Inspire clean energy partnerships with local energy generators near you!
Blown away by our awesome wind farms? Check out our local clean energy plans.
Our Nature-Based Projects

Nature-based what? [record scratch] Let's back up.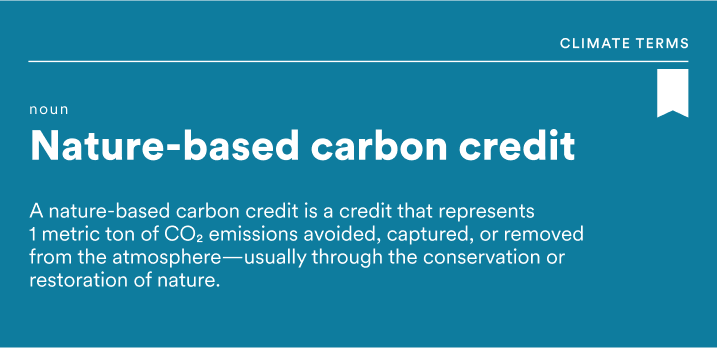 OK, now that we're on the same page, let's discuss nature-based carbon credits and why they're so important. First of all, nature has a remarkable capacity to heal itself. So naturally, we gravitate toward nature-based carbon credits. But how do we use them? To neutralize the emissions associated with natural gas usage and our corporate greenhouse gas footprint. Natural gas is used in homes across the United States for everything from space and water heating to drying clothes and cooking. Despite its name, natural gas is still a fossil fuel.
While electrifying everyone's home is the end game, doing so can be challenging and cost-prohibitive for homeowners. So we came up with the next best thing: partnering with high-quality nature-based projects that effectively neutralize harmful gas emissions, which allows us to offer clean natural gas plans in select states. 
We proudly support a handful of amazing nature-based projects around the world that meet the highest environmental standards (with more to come)! 

Bajo Calima y Bahía Málaga
Project Type: Avoided Deforestation
Standard: REDD+, VCS
Location: Colombia 
Area Size: 83,452 hectares (206,214 acres) 
Claim to fame: Saving the rainforest, one community at a time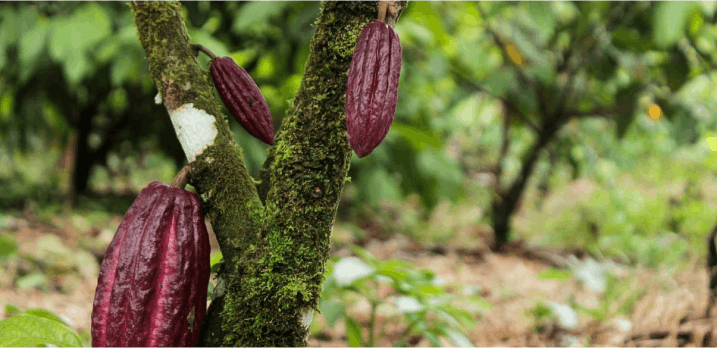 This incredible project is dedicated to protecting and restoring 83,452 hectares of rainforests on Colombia's Pacific coast. By working closely with local communities, Bajo Calima y Bahía Málaga helps establish alternative sources of income, capacity building, and productive activities, putting an end to destructive selective logging and securing a sustainable future not only for the local Afro-descendant communities but the whole planet.
Brazil Nut Concessions 
Project Type: Avoided Deforestation
Standard: REDD+, VCS
Location: Peru
Area Size: 290,714 hectares (718,370 acres)  
Claim to fame: Saving one of the world's most biodiverse forests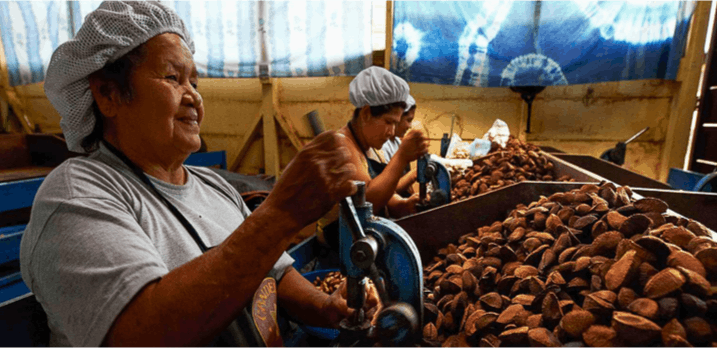 Located in Peru, Brazil Nut Concessions aims to preserve the last remaining virgin rainforests in the Madre de Dios region (an area that would have surely been destroyed if not for this project) by partnering with concessioner farmers to create economic opportunities that avoid GHG emissions associated with logging. By investing in the livelihoods of more than 400 local families, this project safeguards one of the world's most biodiverse forests!
Central Kalimantan Peatlands
Project Type: Avoided Deforestation
Standard: REDD+, VCS
Location: Indonesia 
Area size: 43,237 hectares (106,841 acres)
Claim to fame: Turning a planned palm oil plantation into an orangutan refuge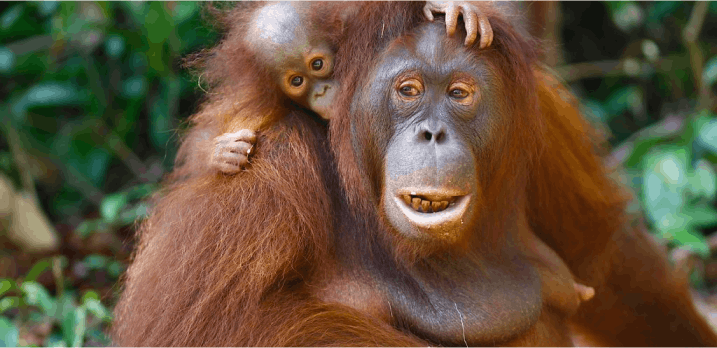 This project saved Indonesia's Central Kalimantan Peatlands from being drained and turned into a palm oil estate. These peatlands, which can store 20 times more carbon than regular forests, are now protected and serve as a buffer for Tanjung Puting National Park, providing a refuge for countless plant and animal species. The project also supports the local economy by providing livelihood programs in nearby villages.
Wu'erquihan Inner Mongolia 
Project Type: Improved Forest Management 
Standard: VCS 
Location: China 
Area size: 43,167 hectares (106,668 acres)
Claim to fame: Sequestering carbon and saving 70 species of animals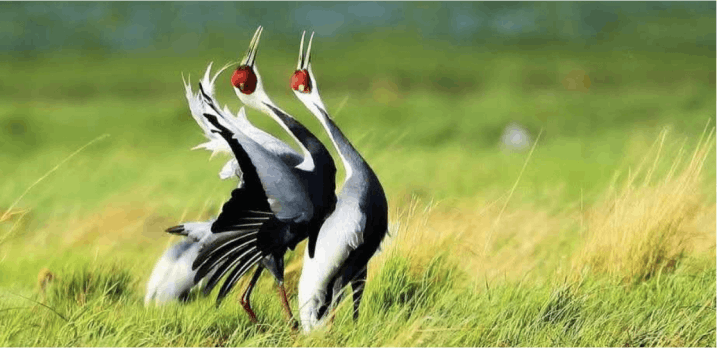 Nestled in the poverty-stricken county of Olunchun Banner in northeastern Inner Mongolia, the Wu'erquihian project is a forest management initiative covering 43,167 hectares of land. For decades, this region has been exploited for industrial timber harvesting, which decimated the area. To protect the forest and the 70 key animal species that call it home—including lynx, brown bears, and otters—the project has put a stop to harvesting activity for the time being, allowing the forest to sequester carbon.
Katingan Mentaya Project
Project Type: Avoided Deforestation
Standard: VCS
Location: Indonesia 
Area size: 149,800 hectares (370,164 Acres)
Claim to fame: Saving endangered species in a biodiversity hotspot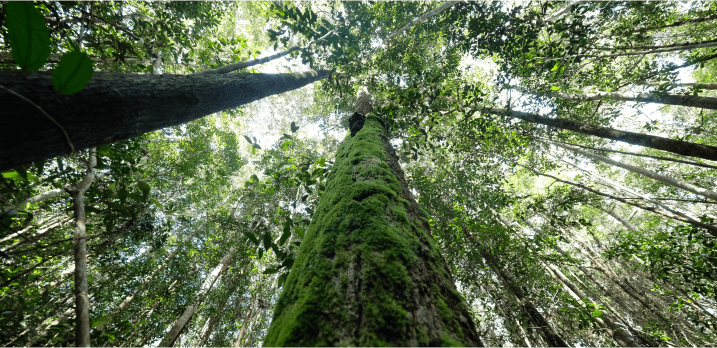 The Katingan Mentaya Project protects almost 150,000 hectares of peat swamp forest, preventing hundreds of millions of tonnes of carbon from being released into the atmosphere and providing a sustainable habitat for native wildlife. The protected peatland habitats in Central Kalimantan, Indonesia are home to several critically endangered species, including up to 10% of the surviving Bornean orangutans, southern Bornean gibbons, and proboscis monkeys. The project also works with local villages to alleviate poverty: all employees are Indonesian. Katingan Mentaya's impact is equivalent to taking 2 million cars off the road each year.
For more information on Inspire—or to sign up for a 100% clean energy plan—visit inspirecleanenergy.com. The orangutans will thank you!
Don't worry about climate change— do something about it.
Our clean energy plans are the easiest way to reduce your home's carbon footprint.
Switch to clean energy
→
We're on a mission to transform the way people access clean energy and accelerate a net-zero carbon future.
Learn more about Inspire →
Explore more
Recent Posts
Top Articles