Illuminating Hope: Inspire and GivePower Bring Light and Opportunities to Mwituria Secondary School
category: Brighter World Project
March 9, 2023, will forever be etched in the hearts and minds of the students and faculty at Mwituria Secondary School, as it was the day their beloved school was electrified, bringing light and hope to the 160 students who call it their educational sanctuary. Prior to this day, the remote school, located in Nanyuki, Kenya, operated completely devoid of power…no lights…no computers.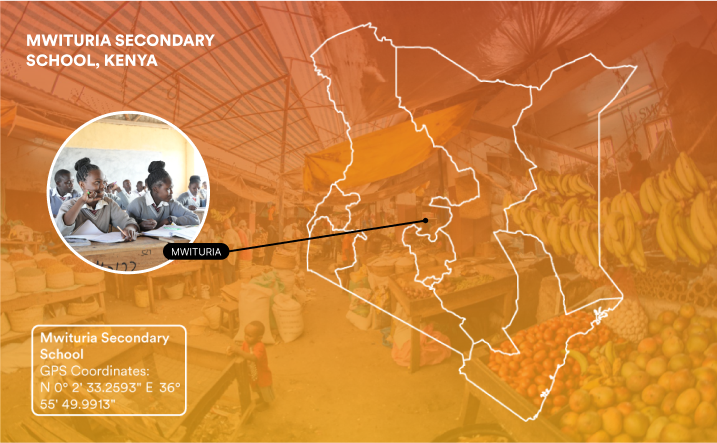 Inspire and GivePower's Mission to Propel Energy Equality 
Inspire envisions a world where universal access to clean energy prevails. So forging a partnership with GivePower—an esteemed nonprofit dedicated to implementing solar-powered solutions that secure critical resources such as food, water, and electricity for people in underserved regions around the world—was a no-brainer. In fact, our partnership with GivePower is a vital component of our social impact platform, known as the Brighter World Project. This initiative encompasses two key programs: a buy-give program and employee treks and giving.
Our buy-give partnership operates on a simple yet impactful principle: For every Inspire membership purchased, we supply clean energy solutions to one person in critical need for an entire year. Through this program, we have been able to help 285,000 people—and we're just getting started. 
On the flip side are our treks, which serve as a unique opportunity to involve employees in this meaningful work, fostering extraordinary bonds among them and firmly rooting them in our mission. Since 2018, our employees have traveled with GivePower to remote villages throughout the globe—from Colombia to Nepal—to install solar-powered solutions. This recent trek to Kenya marks the fifth expedition of our partnership to bring clean energy to communities that have been disproportionately impacted by climate change.
From Serene Forests to Savory Feasts: Exploring Nairobi's Charms With GivePower
After varying flight lengths from different points across the U.S.—some up to 13½ hours—the Inspire team arrived in Nairobi, Kenya's bustling capital. But before getting down to business, the folks from GivePower treated the Inspire trekkers to some local highlights, which kicked off with a visit to the famed Karura Forest, a sprawling 2,570-acre urban oasis on the outskirts of Nairobi. And, since no sightseeing tour is complete without indulging in culinary delights, the crew spent the rest of the evening breaking bread over a communal platter of Ethiopian eats before retiring to bed to rest up for their journey to Nanyuki.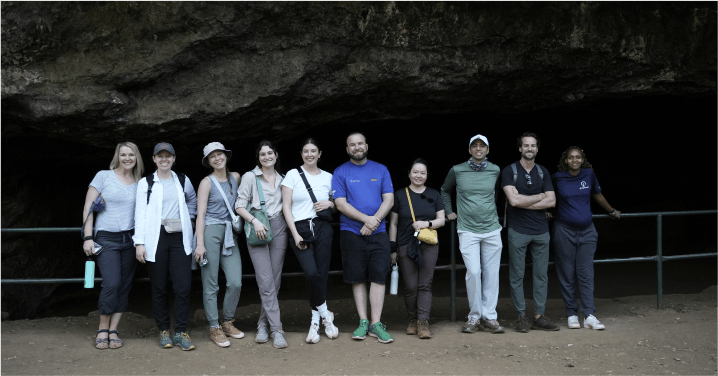 Before heading to Nanyuki, the team visits Karura Cave, one of the longest continuously inhabited structures in the world. Tools found in this cave predate the human species!
Forging Strong Community Bonds
Still on that travel high you only experience when venturing to far-off locales, the team hopped into a caravan of Jeeps the next morning to begin the four-hour ride from Nairbobi to Nanyuki, a journey filled with beautiful scenery and an abundance of wildlife sightings. "Every time we drove through the Ol Pejeta Conservancy, it was like a safari for us," Sophie Goldstein, Sr. Lifecycle Marketing Coordinator, explains. 
Upon arriving at Mwituria Secondary School—which is located just outside the Ol Pejeta Conservancy, a sanctuary that's home to elephants, leopards, lions, and rhinos—the crew was warmly greeted by faculty, students, and community members. The highlight of the event was a traditional Maasai dance, performed by students of one of Kenya's main tribes. "We all thoroughly enjoyed this moment, as it brought us together and was the starting point of us integrating with the school and community," says Hamad Akbar, Sr. Manager Channel FP&A.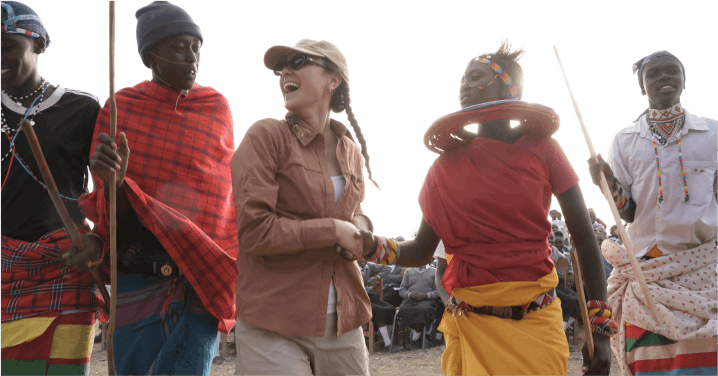 Dana Davis joyfully immerses herself in the vibrant celebration of the Maasai tribe, joining their Welcome Celebration dance upon the team's arrival at Mwituria Secondary School.
Time for Action: Harnessing Strength and Determination
Having spent their first night in the school's dormitory (designated for students residing too far away to commute daily), the trekkers were ready to dive into the true reason they traveled to Kenya: to construct a solar microgrid for the school. Their mission, which they chose to accept, was to dig holes, set trenches, pour concrete, assemble the structure, and lift panels into place. Time to break out the power tools and get to work! But our team of keyboard warriors soon learned the physical labor they were about to undertake was going to be far more demanding than they anticipated…as there was no electricity to power those tools. Undeterred, the trekkers split off into groups of two or three and set to work, using shovels, lengths of steel rebar, pickaxes, and an assortment of various implements to break through the rugged terrain. "We were literally chiseling away at rock for hours," Tim Moreton, Sr. Manager of Software Engineering, recounts. "But once we got through that rock, everything came together pretty quickly."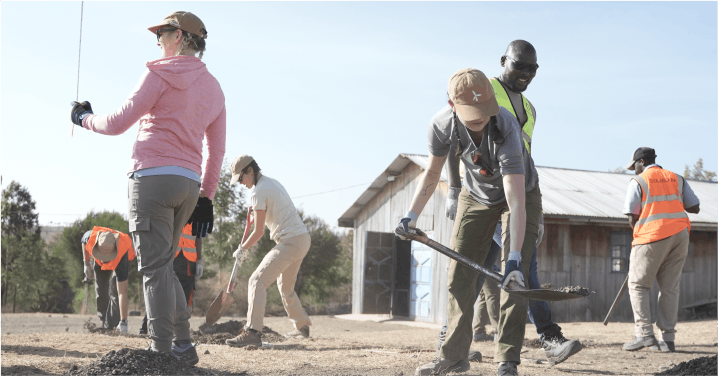 Sophie Goldstein skillfully digs one of six 2-foot holes for a solar panel base while Nicole Olver measures out 2 feet with measuring tape. 
With the tool shortage conquered and the holes sufficiently dug, the team proceeded to excavate the remaining trenches and pour concrete. Soon, a robust structure began to take shape, supported by sturdy beams and pillars that would hold the panels.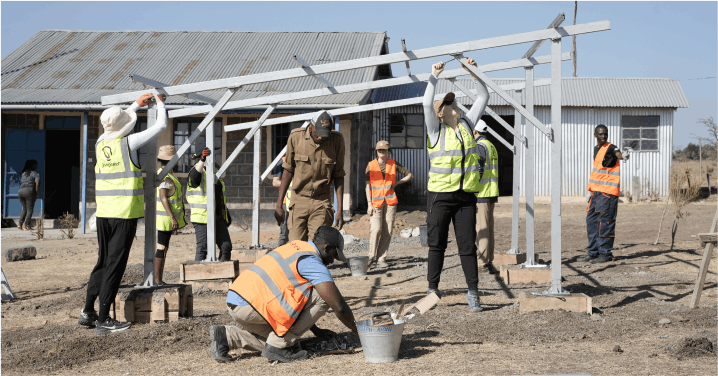 Laura Petrenko and Nicole Olver construct the framework for the solar panel system.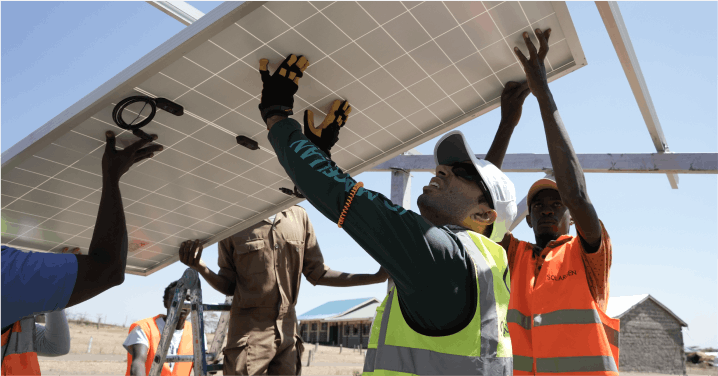 With help from the GivePower team, Hamad Akbar installs a solar panel on the completed structure.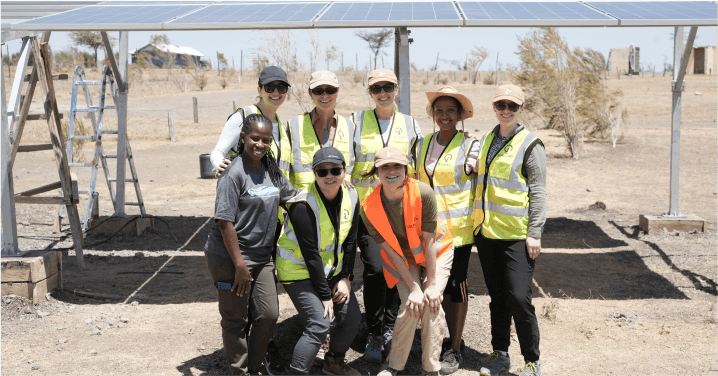 Radiating empowerment, these fearless women celebrate the completion of the solar panel project on International Women's Day.
 The sense of accomplishment was amazing. All of us coming together as a group…working through blisters…was really inspiring."
Laura Petrenko, Executive Assistant
Unleashing Sweet Rewards
At the end of each manual labor–filled day under the unforgiving Kenyan sun, the trekkers were rewarded with once-in-a-lifetime experiences they'll cherish forever—from engaging in playful games with students to embarking on thrilling safaris to embracing the opportunity to learn Swahili. But little did they know they were about to check off an unexpected bucket list item: meeting the world's last two surviving northern white rhinos.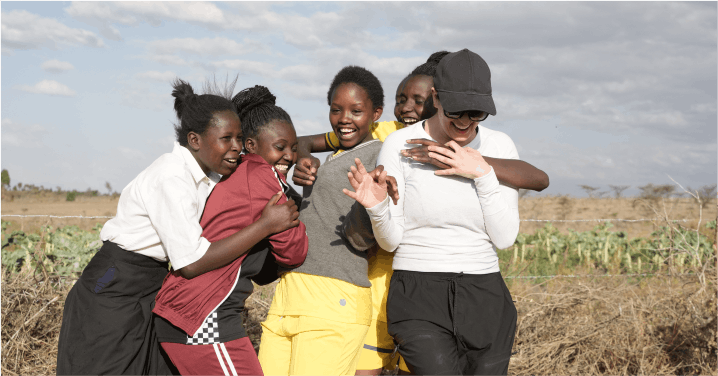 Clearly a fan favorite, Laura Petrenko receives an outpouring of affection after playing a captivating game of "Find My Letter" (similar to "Duck, Duck, Goose") with students.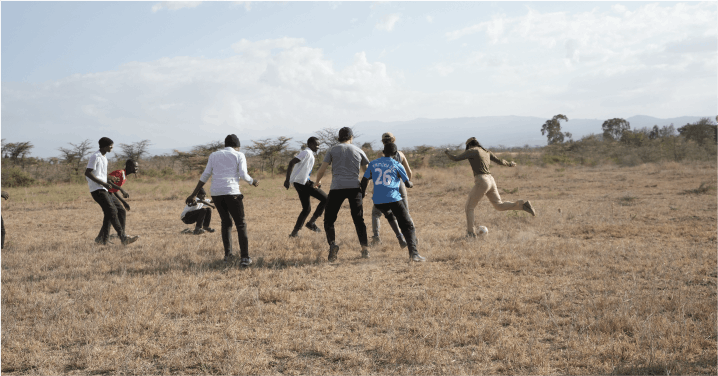 The trekkers on their way to earning bragging rights after besting the students in an exhilarating game of soccer.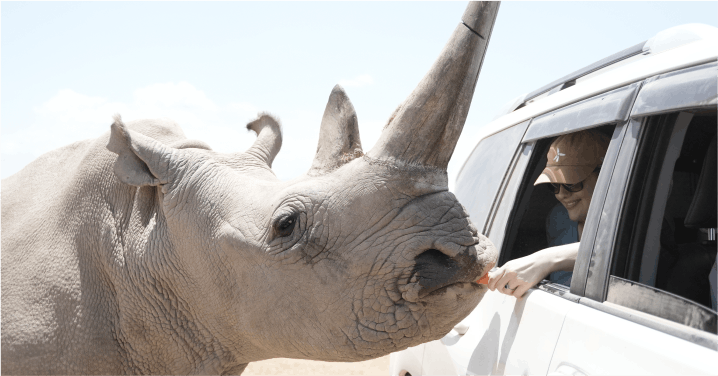 Bucket list item alert: Nicole Olver feeds a carrot to one of the world's last two surviving northern white rhinos.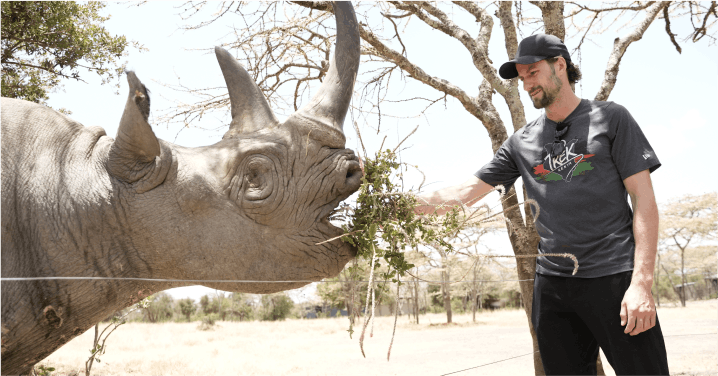 Rocking his Kenya Trek shirt, Tim Moreton shares a tasty snack with Baraka, a blind black rhino.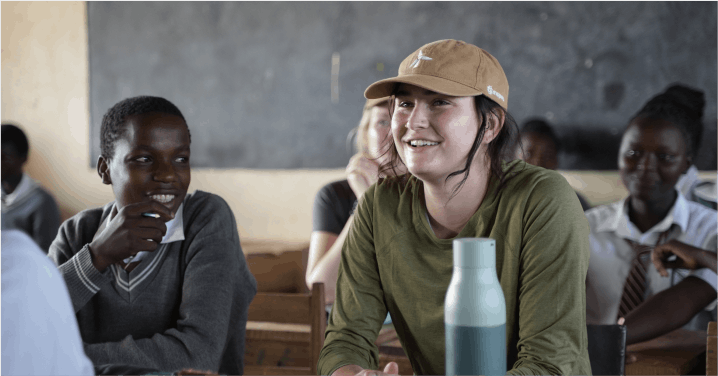 Sophie Goldstein enjoys a laugh with a friendly student during an after-hours Swahili class.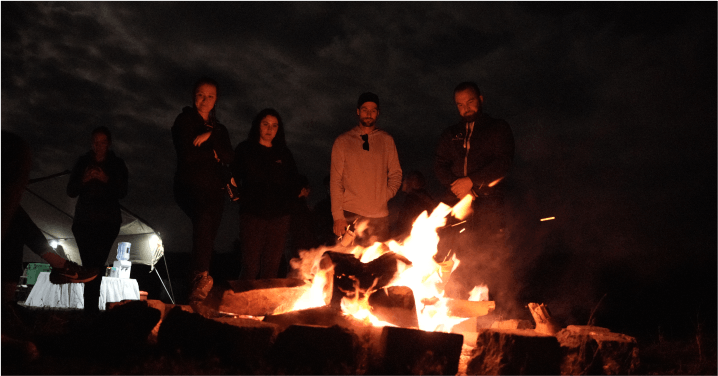 Each evening, the crackling campfire serves as a backdrop for impassioned discussions surrounding social equity and climate justice.
The Lighting Ceremony: Mwituria Secondary School Enters the Digital Age
The atmosphere was electrifying as trekkers, students, faculty, parents (some of which traveled hours from far-away villages), and community members gathered for the much-anticipated lighting ceremony—the moment that would signify a new era for Mwituria Secondary School. As the sun set, the students took the stage, performing an energetic dance. Then the trekkers surprised everyone with their perfectly synchronized rendition of the Macarena (yes–that one), which was an instant hit. Heyyyyyyy, Macarena, ay! Amidst the joyful ambiance, gratitude-filled speeches were given. Then came a moment that left everyone in awe: Akbar, a talented linguist, took the microphone and delivered a heartfelt speech in Swahili—with a minor hiccup that elicited giggles from the students. His words resonated with the crowd, bridging cultural gaps and inspiring a global sense of connection. 
But the most remarkable highlight of the night occurred post-countdown, when the whole community lit up and the computer lab came to life. "I walked into the lab and some of the parents were already sitting there trying to learn how to use the computers," Akbar explains. "They were saying how the computers were not only for the kids but for the community–and they were excited to learn them as well."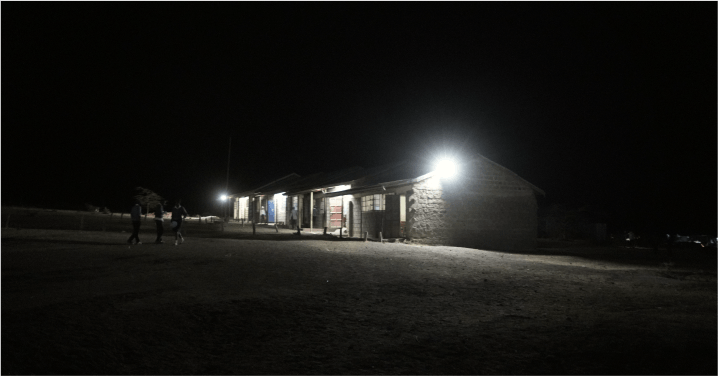 3…2…1…the power surges to life at Mwituria Secondary School, igniting a beacon of hope and a gateway to endless possibilities.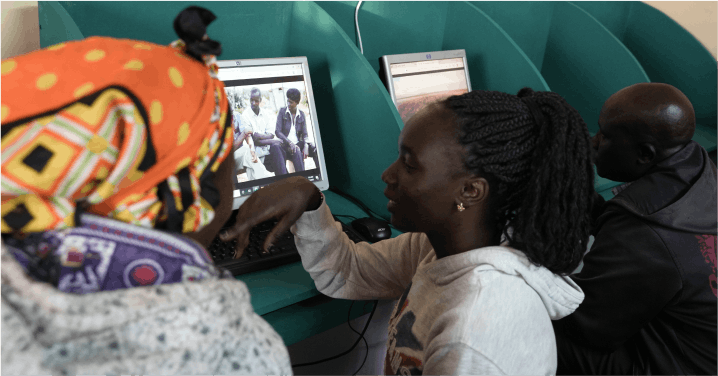 Excitement fills the air as students and parents gather in the newly inaugurated—and newly painted!—computer room, marking the beginning of a new era as they step into the digital world for the first time.

What I found to be one of the most beautiful moments was all the parents and grandparents sitting around the computers. It was obviously the first time they'd had access."
Nicole Olver, SVP of People
Journey of Impact: Trekkers Galvanized Around Inspire's Mission
From the second the Inspire team set down in Kenya, their lives were forever changed—from visiting Karura Forest, trying injera for the first time, and interacting with the last two northern white rhinos on the planet to joining the Maasai in a traditional dance, creating bonds with students, and working with their fellow trekkers to construct a solar microgrid from the ground up—without the use of power tools. But all the trekkers agreed that nothing quite compares to witnessing people's faces light up when they experience the transformative power of accessing electricity—and computers!—for the first time.
Seeing everyone's faces when the lights turned on was a surreal moment."
Dana Davis, Sr. Director of Impact
These profoundly impactful moments are the driving force behind Inspire's decision to dispatch our dedicated teams across the globe with GiverPower, rather than simply dropping a check in the mail. "Inspire's mission is to provide consumers access to clean energy and to accelerate a net-zero future," Akbar explains. "And if you think about what was done on this trek—and our past treks—it's not an abstract mission…it's directly visible." 
It's easy to sit in the office, immersed in operations, or, as a software engineer, lost in lines of code. Or, perhaps you're on a tight deadline creating marketing materials. In these moments, it can be hard not to get lost in the minutia. "But when you go on a trek," Akbar says, "you realize all of this abstraction serves one purpose—and it's to help people in a sustainable way. Going on a trek brings you close to that core value and core mission."
To witness history being made at Mwituria Secondary School, check out the video below. 
Don't worry about climate change— do something about it.
Our clean energy plans are the easiest way to reduce your home's carbon footprint.
Switch to clean energy
→
We're on a mission to transform the way people access clean energy and accelerate a net-zero carbon future.
Learn more about Inspire →
Explore more
Recent Posts
Top Articles